Compliance x Performance = Goal
"Innowell Method" is a carefully crafted approach conceived by our leadership team that
thrives excellence in the organisation. Innowell Performance Development System (IPDS)
continuously evaluates the ability of our team to meet organisational goals through
Compliance and Performance in two dimensional measure. It is essential that we stand at
"High Compliant, High Performer"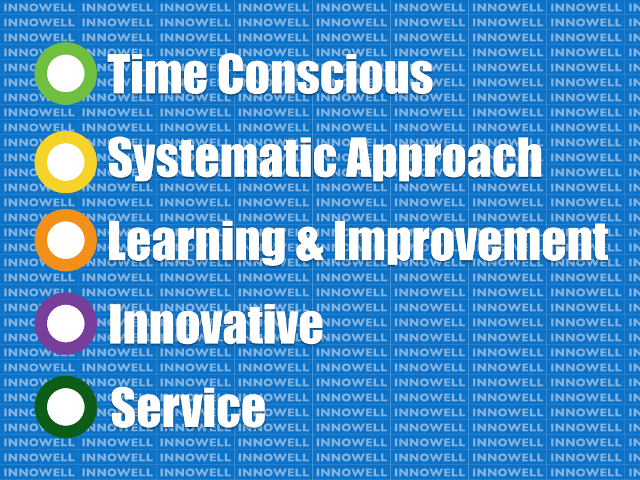 Compliance metrics
Compliance is our lifeline and the most valued quality cherished by every Innowellers. We believe in "Attitude decides our Altitude". It is the foundation of our performance. These measures are mandatory for all our team members.
Time Conscious: 'Being on time to Office', Being on time for meetings', 'Being on time on deliverables, and Being on time back home" are base of evaluation.
Systematic Approach: Systematic approach and deploying the industry standards are focused on this compliance.
Learning & Improvement: Thrust for learning is essential to provide most advanced solutions to our customers. Every individual in our organisation constantly update skills and knowledge at every opportunity.
Innovative: Our passion for being innovative helps us explore new ideas and solutions for every project and at every opportunity.
Service: We are committed to give back to our society more than what we take from it. Our CSR activities include student support programs.
Performance metrics
Our performance goals are aligned inline with our vision.
Knowledge: Capability building goal is based on changing market requirements.
Productivity: Productivity goal measures how efficiently we deliver projects.
Quality: Quality goal measures our performance on project deliverables through internal quality management system.
Customer: Ultimate goal of our business is to ensure the customer delight. In every customer transaction we ensure to achieve 'Customer Delight'.
Growth: Our growth goal focuses on a positive change year by year for economic success. Everyones contribution is again essential for growth.